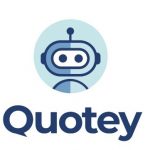 Whitby, ON, October 10, 2023: Quotey is delighted to announce that it has expanded its commercial insurer marketplace to include Peace Hills General Insurance Company for its commercial lines products.

Effective today, Peace Hills Insurance broker partners using the Quotey platform can instantly receive quotes for large segments of the contractor and construction businesses, ranging from electricians, painters and framers to builders, janitors, HVAC technicians and more. Peace Hills will dynamically quote a comprehensive range of coverage options to meet the needs of the construction and contractor industry.
"Adding Peace Hills Insurance's products to our marketplace is a huge win for our broker partners as it expands the number of high-quality insurers who will provide instant quotations for key segments of the industry," said Quotey CEO and Co-Founder, Nick Kidd. "We're really excited about bringing Peace Hills on board. Their products and pricing will enable Quotey users to find great value for money insurance for their clients in minutes, rather than days."
Contractor's packages are the first of many Peace Hills products that will be available on Quotey throughout Western Canada and the Territories. Additional solutions for retailers, commercial realty and hair salons are expected to follow later this year.

"Peace Hills is continually looking for ways to make it easier for our broker partners to do business with us," says Peace Hills Regional Director, Brian Gallimore. "We are committed to supporting the value that the independent insurance broker has to offer our customers, and we know that partnering with Quotey will be another great way for us to showcase this."
Quotey launched last year in all provinces except Quebec – where it will be available later in 2023 – and is Canada's first multi-insurer commercial lines quoting and cover comparison tool for brokers. The platform only costs $10 a month per user and allows brokers to complete a single digital application for over 700 classes of business and get instant comparable quotes from a growing list of participating insurers like Peace Hills Insurance.
About Peace Hills Insurance:
Peace Hills General Insurance Company has been serving Western Canada since 1982 with home, auto and business insurance products. Their head office is in Edmonton, Alberta, with branch offices in Calgary and Vancouver. They employ nearly 250 staff who work with over 1,000 independent broker offices across British Columbia, Alberta, Saskatchewan, Manitoba, the Northwest Territories, Nunavut and Yukon Territory. Learn more at peacehillsinsurance.com.
Media Contact:
Katie Keeling, Marketing and Communications Advisor, kkeeling@phgic.com  

About Quotey:
Founded in 2020, Quotey Inc. is a privately held Canadian technology company based in Whitby, Ontario, established to serve the commercial insurance industry. It works with multiple brokerages and carriers to create a simpler, more efficient and ultimately better process for securing commercial insurance coverage for clients. Learn more at quotey.io.

Media Contact:
Nick Kidd, Quotey co-founder and CEO, nick.kidd@quotey.io